David Bowie wore skirts and bodysuits on stage. Kanye West go out in leather skirts a couple of times and killed it. Harry Styles defied gender norms with his floral Gucci suit, dangly earrings, and pink nail polish. And don't get me started on how edgy and beautiful Ezra Miller's fashion choices are.
Androgyny looks great on fashion designers, models, and high-profile celebrities, there's no doubt in that. Unfortunately, for common people like you and me, it's not something you'd show up to work in. Realistically speaking, the world isn't a hundred percent ready for men wearing skirts and bright red stilettos. But there's a great chance we're going to get there.
And besides, menswear designers today are getting bolder, more creative, and more out-of-the-box. They're introducing men's clothing with attributes deemed as "feminine" in streetwear, sportswear, and even formal wear.
Have you ever been wanting to try pieces that are not in the "men's fashion" book? The question is, "what's stopping you?
What is Androgyny Fashion (And What Isn't?)
Androgyny, Nonbinary, and Gender-bending are three terms that suggest resisting gender conventions but they're not the same thing.
Androgyny VS Nonbinary
Nonbinary is a spectrum of gender that's outside the gender binary, or in other words, a gender that isn't exclusively masculine or feminine. Nonbinary is a term that refers to someone's gender identity, not a fashion identity.
Androgyny, on the other hand, refers to dressing up based on physical appearance and the presentation of one's individual style that doesn't necessarily correlate to a type of gender or sexual orientation. You can identify yourself as a straight man and dress androgynously. Your clothing is a tool for art and self-expression, not a basis for your gender identity.
Androgyny VS Gender-bending
Gender-bending or cross-dressing is a style wherein people dress in the manner common to that of the opposite sex. Unlike dressing "oppositely", androgynous fashion blurs the line between masculine and feminine.
To dress androgynously is to come up with outfits that thoughtfully mix the elements of both feminine and masculine style. When you pick clothing pieces, your primary reason is not to dress based on your sexual orientation (or the opposite thereof) but to simply present your individuality the best way possible. And if that means mixing your formal coat with a long skirt, boots with heels, and red lipstick, then go for it!
We're here to give you useful tips on how to get started and pull off an androgynous look people will eye on for the right reasons.
1. Browse online for inspirations
No need to blindly raid your mom's or girlfriend's dresser to see which of their pieces will suit you. Start by browsing style inspos from Instagram and Pinterest. Even a simple Google search can lead you to a goldmine of edgy fashion styles that might suit your fancy.
2. Go for a masculine cut with feminine prints and elements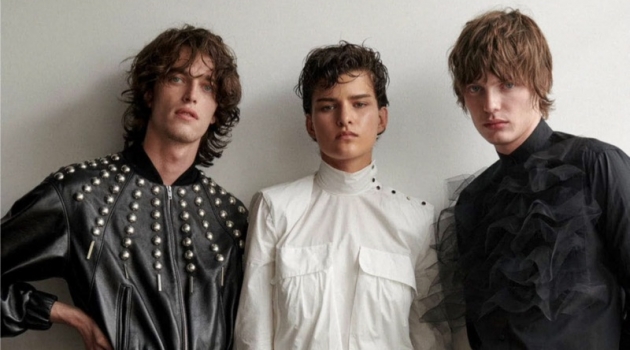 You don't have to start shopping the ladies' section to look truly androgynous. Let's see if your favorite men's designer clothes shop has a collection of pieces in masculine cuts but in an unconventional, feminine design. Try dressing in florals, animal skin prints, and other vivid patterns and colors.
3. Think of streamlined, formless fits
Looser fits are often incorporated in many androgynous looks as they don't hug the figure and indicate someone's sex. You may go for looser tops, trousers, skirts, or dresses with clean lines and shapes as a starting place.
4. Or embrace your curves with body-hugging shirts. You do you
Feminine clothes often have form-hugging properties that accentuate their natural curves, from the bust to the waist. When men wear super tight tops that hug their waist, they're often perceived as "less manly". Well, screw that — break stereotypes by going for form-fitting clothing that embraces your curves. No one's stopping you from wearing a corset too.
5. Balance the proportions
A good starting point is to create a balance between your top and bottom silhouette. If you have a loose top, go for skinny jeans, trousers, or skirts. If your top is form-fitting, go for a looser bottom piece, like high-waist slacks or skirts.
6. Opt for longer tops
Still not committed to wearing a dress? Try opting for long shirts, cardigans, or coats that extend until your knee. Pair them with a slim-cut pair of pants. When you're getting the hang of it, you may ditch your pants and wear a stunning pair of boots or loafers.
7. Try unconventional necklines
Feminine clothes have a variety of interesting necklines, you know? Ever thought about going for a deep V-neck? How about an asymmetric blouse? Perhaps a halter top or sleeveless top with a turtleneck will suit you. You do you.
8. Wear neutral hues to allow the outfit's form to shine
Another sophisticated way to rock the androgynous aesthetic is to go for neutral hues of black, white, gray, tan, and khaki. By focusing on neutral colors, you draw attention to the outfit's form.